2020 just keeps getting worse. Our beloved Rishi Kapoor passed away earlier today and we are in shock. He redefined Indian cinema and was one of the most celebrated actors in Bollywood. While he won hearts with hits like Bobby, Kabhie Kabhie, Amar Akbar Anthony and many more iconic films, but for us millennials he was always the charming, adorable grandfather figure in movies, who we loved and idolized.
Here are some of the cutest characters Rishi Kapoor brought to life.
1. Manmohan Malhotra, Namstey London
Rishi Kapoor as the overbearing, overprotective Punjabi dad in Namastey London was iconic. Everytime he yelled at Jazz for being 'too Angrez', all the jokes he cracked on his wife, the warmth he gave to Arjun and his cute drunk dad behaviour made us love him so much more.
2. Santosh Duggal, Do Dooni Chaar
"Hello, Santosh Duggal this side"
Do Dooni Chaar may just be one of the cutest movies to exist and Rishi Kapoor was the sole reason. Watching him dreaming about his dream car and trying everything in his power to buy it left us emotional and in fits of laughter. He transformed our image of the quintessential middle class dad to an adorable old man who you just want to give a big hug to.
3. Babulal Vakharia, 102 not out
Who can ever forget Rishi Kapoor as the grumpy 70 year old embarrassed of his 100 year old father. Amitabh Bachchan and him came together in this delightful movie, but it's safe to say Kapoor made the lasting impression. Anyone who has ever been embarrassed by their parents, at any age could relate to Babulal Vakharia. The movie left us inspired, warm hearted and optimistic, and we loved every second of it.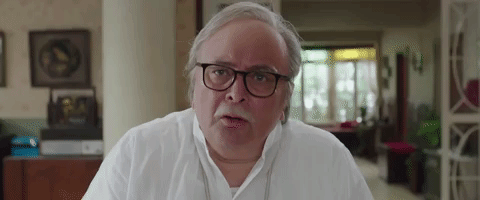 4. Yoginder Vashishth, Student of the Year
While Student of the Year gave us 3 of today's hottest stars, it also gave us Rishi Kapoor as the flamboyant Yoginder Vashishth. In a movie with Alia, Varun and Sidharth, it was Rishi Kapoor who stole the spotlight. Whether it was his shameless thirst for Coach Shah, his fear of his mother and exercise, the emotional conflict with his students, his tear-jerking last moments, or him saying "Hello Khakhra" to the coach's wife. He became the extravagant, flashy outfits he wore and his extra-AF persona captivated us. Never again will anyone do justice to such a role the way he did.
5. Amarjeet Kapoor, Kapoor and Sons
No one will ever forget Rishi Kapoor as the adoring Dadu who brought his family together in Kapoor and Sons. He was so cute in the movie and every scene of his had us going "AWW" while emotionally destroying us simultaneously. His role melted the hardest of hearts and made us feel emotions we didn't think we were capable enough to feel. He was the perfect grandfather. He milked his old age benefits, liked parties, got high and loved his family endlessly. If we had a grandfather like Amarjeet Kapoor, we'd never ever leave him, ever.
Rishi Kapoor has left a hole in our hearts and the Indian Film Industry will never be the same. He has left behind a legacy that is untouchable. May he rest in the utmost peace. We send our love and prayers to his family and friends.
PS- Dear 2020, enough now. Please.